Become A Phlebotomist- Phlebotomy Training, Schools, Classes, Certification
---
How To Become A Phlebotomist – Find Out About Phlebotomy Schools, Training Classes And Certification
---
– Receive free info from
Phlebotomy Schools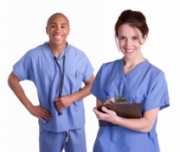 A Phlebotomy technician holds a vital role in healthcare.  What is a phlebotomist?  A phlebotomist has the responsibility of drawing blood from patients for various testing or donation purposes.  That is the primary role of the phlebotomy technician, but there are other Duties As A Phlebotomist such as handling phone calls from patients and doctors for scheduling appointments.  This is especially true in a laboratory or clinic scenario.  Being in constant contact with doctors and nurses is another part of this job.  The communication between the phlebotomy technician and other healthcare professionals is crucial to proper record keeping and patient care.
Wednesday, January 20, 2010

Some of the other many Duties As A Phlebotomist include but are not limited to such things as record keeping, verifying patient information, verifying insurance information, giving instructions to a patient, data entry, and pick up or drop off specimens at an identified location. A phlebotomist must also know the laws involving drug testing in order to give accurate instructions to the patient.
Taking care to be safe when drawing specimens is another important part of the phlebotomist's job. Taking safety precautions during blood drawing or the handling of bodily fluids such as wearing approved rubber gloves as well as the storage, and transportation of these bodily fluids are also very important duties as a phlebotomist. Abiding by the laws regulating proper disposal of any tools used in the laboratory is a responsibility of all healthcare professionals including the phlebotomy technician. Hospitals and laboratories rely on the phlebotomy technician to be thorough and take the Duties As A Phlebotomist seriously.
A phlebotomy technician career can be obtained with the proper training courses and are offered online or on a physical campus at accredited colleges and vocational technical schools. Many times, certification requires some on the job training before taking the exam. For most jobs in this field, a certification is required by the hospital, lab, or clinic offering positions for phlebotomy technicians.
Depending on the venue and state, average salary expectations can run along the lines of $24,000 and up for new phlebotomists. Naturally, as the phlebotomist gains more experience, the salary range moves up and even career advancement is available. Management careers in phlebotomy are higher paying and average around $35,000 to start.
Click Here To Get Free Information From Phlebotomy Schools